via The Beauty Influencers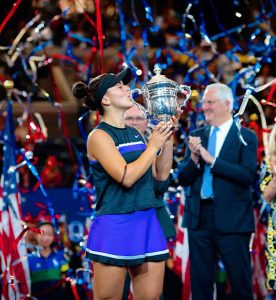 Before she was the household name she is today, Darren Goldberg, Founder of P8NT Products knew exactly who Bianca Andreescu was having been a top ranked tennis player in Canada, himself.  P8NT launched a line of high quality vegan and cruelty-free nail polish and lipsticks in 2018.
"We set out to collaborate with inspirational women. Bianca was not even ranked in the top 100 in the world when we approached her team, but we knew how charming and captivating she was, and that it was just a matter of time before she would break-through on the biggest tennis stage," he told us. "We shot this campaign with her in Toronto in April of this year – right after she won Indian Wells. After close to 4 months aways from the game healing from an injury, she won the Rogers Cup in Toronto (long considered the warm-up to the US Open), and is now the US Open Champion!" he continued…..